How to assemble a HOUSE in 15 minutes just need 4 people
2020/12/15 15:58:34
  Nowadays, there are more and more people focus on easily assemble and fast moveable house for construction builders in the world, therefore, simple and easy installation fold-able container house is one of the most popular container house in the world, because of their easily assemble features, build a "house" just need 4 skilled worker take only 15 minutes will finish all of necessary program.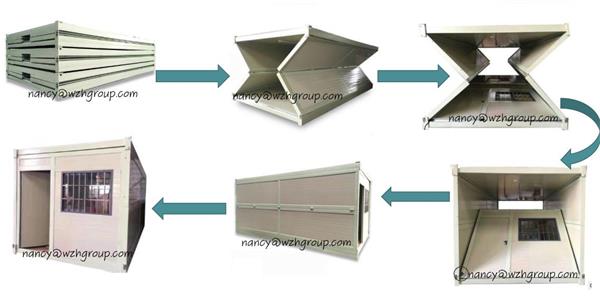 We can image that if a project finished, how about that container houses? Fold-able container house could solve this problem, Not only the fold-able container house can be fast assembled, also Eco friendly, and low transportation cost. Building materials could be replaced to use, saving cost and environmental protection, also, 10 of fold-able container houses just need one 40ft High Cube container, easy transportation saving cost further.
  Although people who want to buy this kind of house focus on there features, quality and safety are also important for a house, Hebei Weizhengheng Modular House Tech. Co., Ltd is one of the top professional manufacturer & trading company that doing business in container houses, we are expert for expandable container house, flat pack container house, fold-able container house and etc, reliable quality and one- stop service help us to build very good public praises in our customers, our one- stop service could help people who need container house but do not have any details to let their dreams come true.