We are glad to bulid steel structre as your given drawing.If you need we design for you, pls supply us the following parameter together with detail size:
  Design Parameters
  1)Live load on roof(KN/M2)
  2)Wind speed(KM/H)
  3)Snow load (KG/M2) if have
  4)Earthquake load if have
  5)Crane (if have) ,Crane span, crane lift height, max lift capacity
  6)Doors and windows: dimension, quantity, position
  7)The materials on the roof and the wall
  8)Crane need or not. if yes, please tell me the max lifting weight and max lifting height.
  9) If you have other requirements,please also inform us.
  10) It is better if you have your own drawings. please send them to me.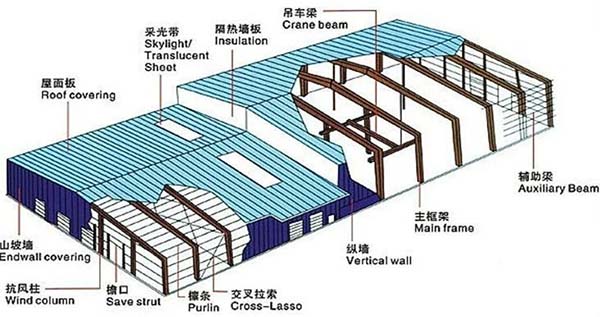 Steel Structure fixed packing, loading, transportation, unloading the matters needing attention:
  (1) The lifting large there must be a person responsible for the use of fixture, suitable, strictly abide by the rules of lifting, to prevent the occurrence of vibration, impact, deformation or damage, fall in the hoisting process.
  (2) At the time of loading, there must be a special supervision, check car number and packing, the car pile up securely, and to increase the necessary binding component loosening, prevent the loss.
  (3) Remained stable in the transport process, the vehicle at the time of shipment, on the long, wide, high object transport, must be trained pilots, escort personnel responsible for, and mark is arranged on a vehicle.
  (4) No rough handling, loading and unloading personnel handling, weight, size should be familiar with the components, and check the horse sling, rigging, prevent accidents.
  (5) The member to the construction site, timely organization of unloading, stacking area.
  (6) The crawler crane carrying member, should pay attention to the surrounding terrain, air condition, prevent the crawler crane overturning and component collision.
  our company as a Steel Structure Building Factory in china ,provide Building Steel Structure Prefab Warehouse Building ,if you need that pls contact us.