Product Information
WZH GROUP as one of steel structure suppliers, is specialized in the producing and processing the steel structure parts and steel structure buildings, not only for the steel structure warehouse / workshop, prefab chicken house, but also for the different model prefab steel structure house, such as container house, light steel house and the prefab easy house.
Many customers are very interested in our workshop when visiting us. They would like to build their steel structure warehouse according to the solutions in our existing workshop.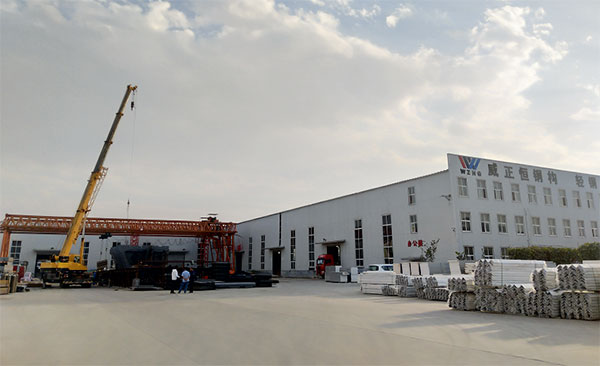 The detail solutions as below,
Steel structure: Q235/Q345 B Welded and painted steel frame, 2 times painted after shot blasting.
Wall: PPGL color steel sheet, with white grey color with 1.2 meter brick wall.
Roof : Composite model (steel sheet + glass fiber rolls + wire mesh ) with the PC board, which can get enough light.
Window: vertical aluminium alloy window
Door : Electrical roller door, which can allow the truck pass.
Crane : with 5-25 ton crane, it can carry goods.
Basic information needed for design and quotation is as below,
1. Size (length , width and height ) and application
2. Local climate, max. Wind speed (km/h), rain, snow (kg/m2), earth quack and temperature (℃)
3. Crane (if have),Crane span, crane lift height, max lift capacity
Welcome to contact us with your detail request. We have the professional design team, which can make the suitable design and offer you the best price for you