Product Information
Steel structure building is a popular type of building system now, its main load-bearing members are made of steel, including column, beam, foundation and roof truss, while roof and wall using variety of materials, such as sandwich panel, steel sheet, wire mesh, foam cement board, ALC board for different building application.
It widely use for steel framing farm warehouse, storage house, prefab steel structure warehouse for machines, logistics, trucks and so on. It can be built very fast and will not influenced by weather, steel material also will be more durable than traditional construction and the total cost is more competitive. Certainly steel structure building also can be combined with concrete or bricks to meet different customers' different requirement.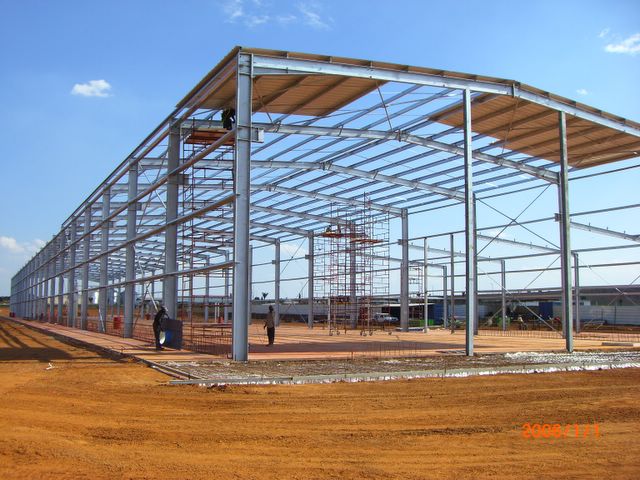 Steel structure warehouse
Main frame: Q345, Q235, Q345B, Q235B etc Welded H section steel column and beam with 2 times mid-grey anti-rusting painting
Secondary frame: Galvanized C purlin, tie bar, brace, roof and wall support
Bolt: Anchor bolt, High strength bolt, Ordinary bolt
Roof and wall:
a) Color-coated corrugated steel sheet;
b) Rock Wool Sandwich Panels;
c) EPS Sandwich Panels;
d) Glass wool Sandwich Panels
e) Skylight panel is used for day lighting
f) Other materials as customers' request
Surface of structure: Hot dip galvanized or anti-rust painted
Drainage System: Galvanized gutter and PVC downspout
Window: Plastic steel or Aluminum Alloy
Door: Sliding Door or hangar door
Connection: Welding connection or bolt connection
AccessoriesFlashing, ridge tile, screw and so on
Crane: 5MT, 10MT, 15MT and more
Packing: Standard seaworthy packaging or customized
* In order to give you an exactly quotation and drawings, please let us know your request length, width, eave height and local weather. We will quote for you promptly.we are steel structure warehouse wholesale,we can guarantee quality.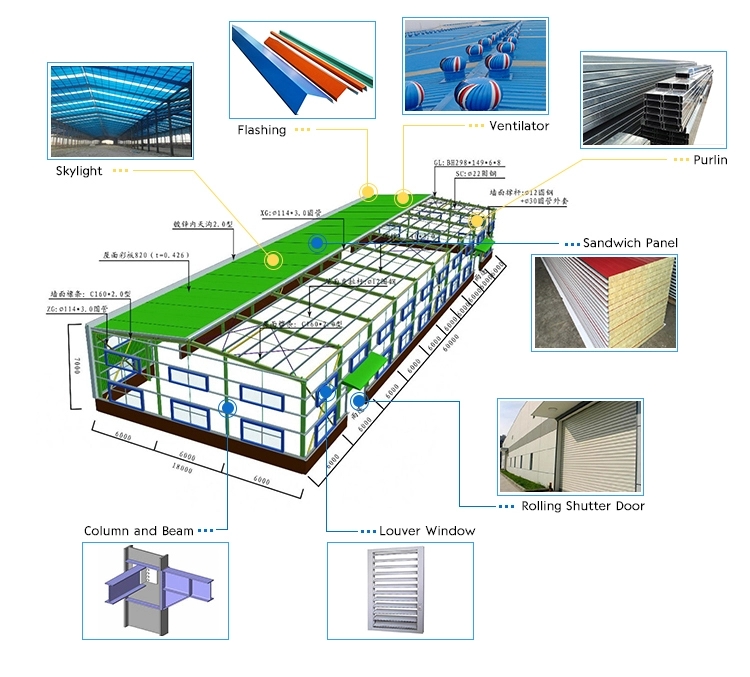 Main Characters
·Super Aseismatic
Most part of the structure will be consisted of cold formed steel members, this system aseismatic grade can reach to 8.
·Wind Resistance
Steel structure building has the performance of high strength, solid rigidity and good deformation capacity, can resist strong wind for 50m/s.
·Durable
The steel material will be painted or galvanized as customers' requirement to be more anticorrosion and rustproof, the lifespan of the structure can be reach to 50~70 years.
·Heat Insulation
Sandwich panel can improve the insulation performance of the building, effectively avoid the phenomenon of "cold bridge" wall
·Environment Protection
Little waste for pollution in construction, 100% steel structure materials can be recycled, most of other related materials also can be recycled.
·Easy and Fast Build
Dry construction, will not influenced by the weather and environment, save much time and labor cost. One 300m2 steel structure building, can be finished in 30 days by only 5 workers.
Main Materials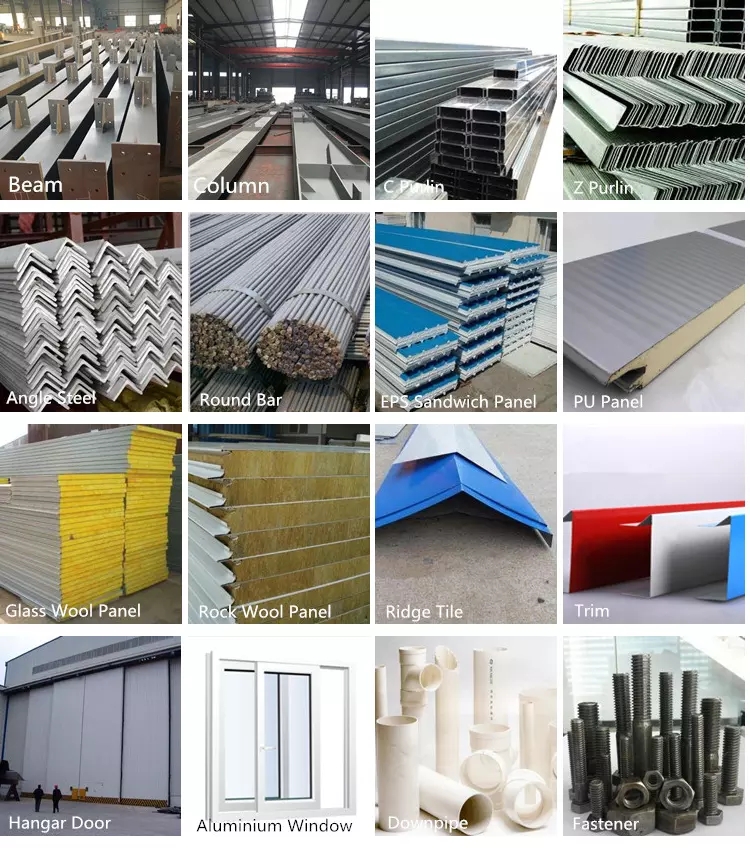 Build Process