Product Information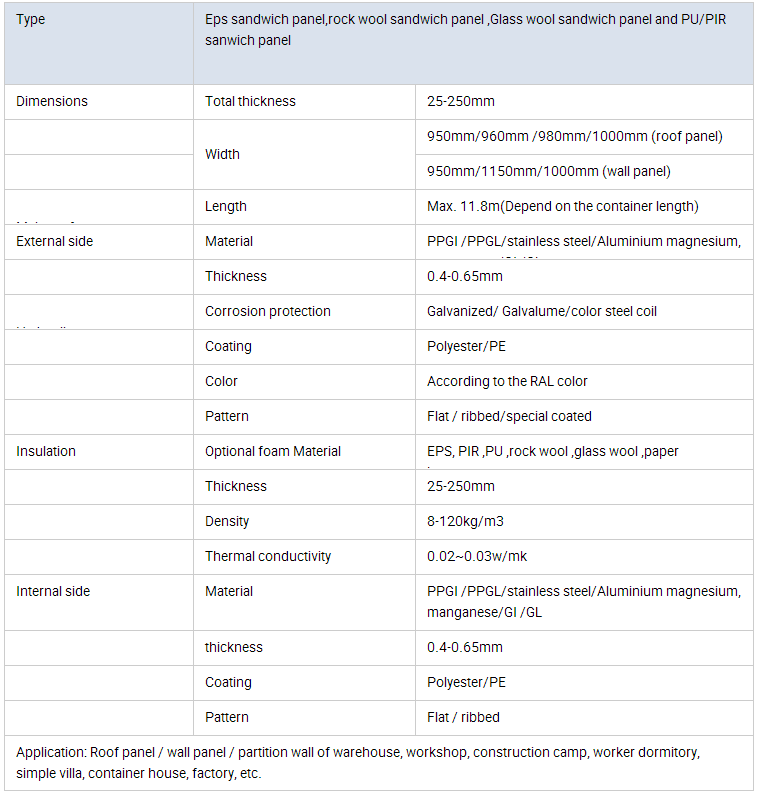 Different type and core sandwich panel
Polyurethane sandwich panel
It is made of 2 layers of color coated steel plates or stainless steel, and is filled with flame retardant polyurethane core. It can be widely used in clean workshop, cold storage, gymnasium, warehouse, exhibition hall, activity room, large playground, etc. It has become a new environmentally friendly material which is harmless to the environment in twenty-first Century.
Rock wool color steel sandwich panel
Its core material is made of basalt and other natural ores as the main raw materials, melted into fibers at high temperature, added appropriate amount of binder, solidified and processed. This product is suitable for industrial equipment, construction, ship insulation, sound insulation, etc. At the same time, it is suitable for housing, electronic cleaning room, cleaning room, explosion-proof fire workshop ceiling, partition, etc.
Rock wool corrugated sandwich panel
It integrates corrugated board and sandwich board, which is three times stronger than the ordinary plane color steel sandwich board; uses hidden self-drilling screw to connect the roof truss, does not destroy the exposed part of the color coated board, and prolongs the life of the color steel sandwich board; uses the button cap type to connect the board, which is convenient for construction, improves the efficiency, and the greatest feature is not easy to penetrate water.
Stainless steel sandwich panels
Stainless steel sandwich panels are made of two layers of stainless steel panels, with flame retardant polyurethane foam or rock wool in the middle. The thickness is 50mm, 75mm, 100mm and 150mm, and the width is 950-1150. It can be widely used in clean workshop, painting line machinery, equipment cold storage, gymnasium, warehouse, exhibition hall, activity room, large playground, etc.
Drying way rock wool board
On the basis of the tradition of rock wool color steel plate, the company has developed a perforated rock wool sandwich board, which is specially made for the needs of high temperature indoor environment such as baking room, paint baking room and so on. It overcomes the influence of heat dissipation of cooling medium transmitted by steel belt, and can effectively control the indoor temperature and heat dissipation. The thickness of the product is 50-150 mm, the effective width is 950-1150 mm, the length can be customized according to actual needs, the panel is stainless steel, color steel, galvanized steel, can be selected according to user requirements.
Product characteristics:
1, advantages: good fire resistance, sound insulation, heat insulation, good insulation, easy installation and high efficiency.
2, fire rating: Class A
Cold storage plate
The cold storage board is made of coloured steel plate as panel, rigid polyurethane foam as insulation material, and composite panel wall is made by advanced technology. It has light weight, high strength, good heat insulation performance, moth-proof and no enzyme. It can form a variety of specifications and forms of warehouse selection through different combinations.
Handmade color steel clad plate
The manual color steel composite sandwich panel series adopts NC fully automatic machine. Its length can be adjusted arbitrarily and its performance is high precision. The whole sheet is shaped into a box shape. It is surrounded by metal aggregates, which makes the sheet hard, flat, non-deformed and easy to install. Core material selection: glass-magnesium, rock wool, paper honeycomb (fire resistance limit exceeds 0.45 hours); rock wool handmade board fire resistance limit reaches 1 hour-2 hours, all through the authoritative inspection certification of the National Fire Bureau. The combustion performance of aluminum honeycomb and paper honeycomb is GB 8624 B1 (hard fuel). It is especially suitable for electronic, medical clean workshop and office ceiling partition.
Magnesium sulphide sandwich steel plate
Magnesium oxysulfide sandwich color steel plate is made of magnesium oxysulfide slab or magnesium oxysulfide hollow composite color coated steel plate. Magnesium oxysulfide sandwich color steel plate has brought into full play the unique properties of magnesium oxysulfide composite material. It has remarkable advantages and effects in fire prevention, moisture proof, degumming prevention, high strength, heat preservation, heat insulation, sound absorption and so on.
Eps sandwich panel for roof and wall
EPS sandwich panel ,There is roof sandwich panel and wall sandwich panel,it is the cheapest core material In all the cores material ,there is different density and thickness eps panel ,can be demanded for different products in different parts of the world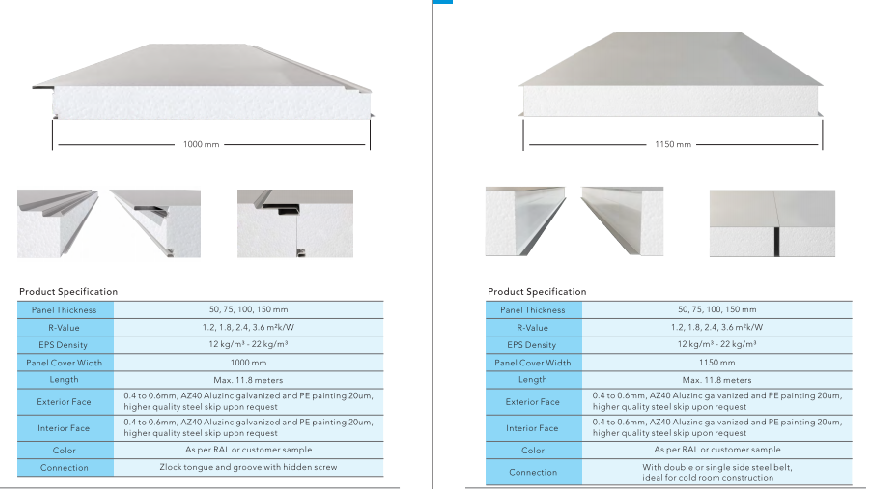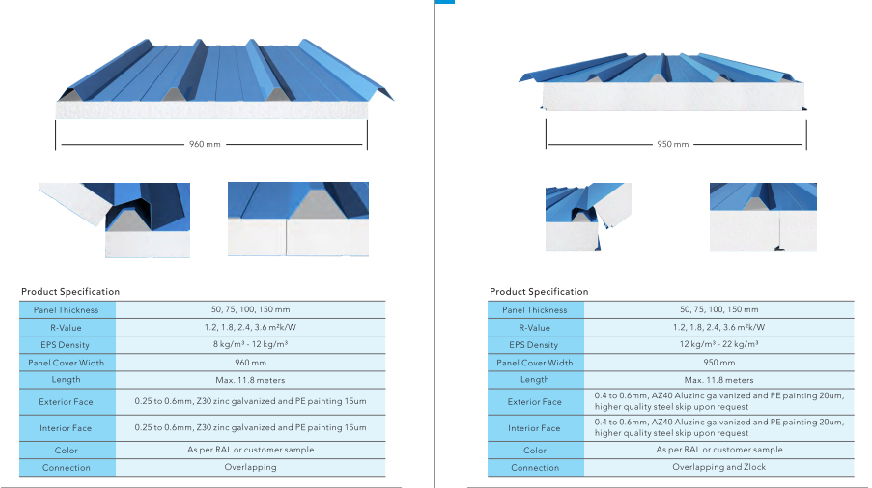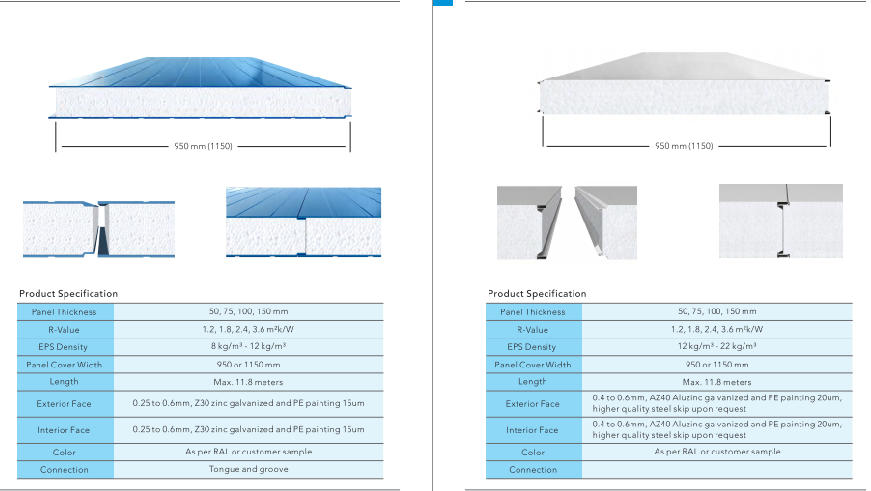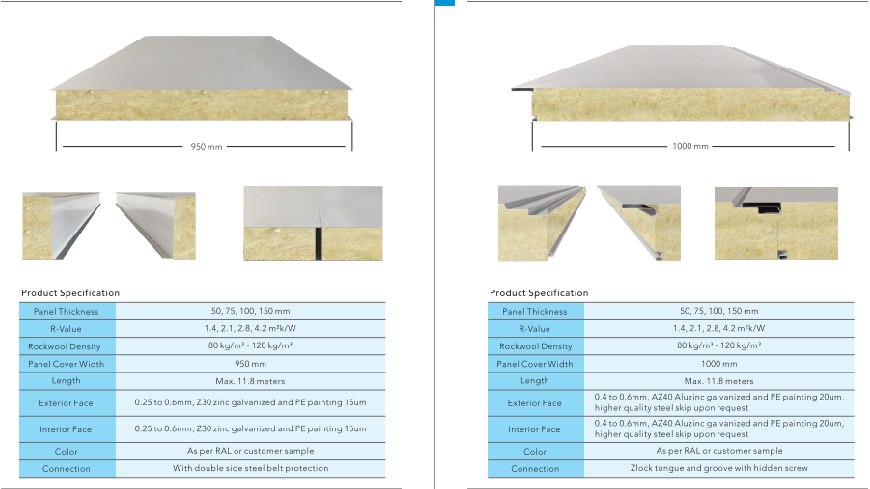 Advantage :
Color steel clad plate uses:
1. industrial plants and warehouses
2. cold storage, box packaging
3. light steel housing, original building sandwich room
4. activity room
5. all kinds of purification rooms, air conditioning rooms, etc
The advantages of color steel composite panels are:
1. light weight, 10kg~14kg / square meter, equivalent to 1/30 of brick wall.
2. thermal insulation, good attraction and sealing performance.
3. the construction is convenient, the installation is flexible and fast, and the construction period can be shortened by more than 40%.
4. bright color, beautiful appearance, no need for surface decoration.
5. high strength, can be used for maintenance structure, load-bearing structure, bending and compression resistance.