Product Information
Specifications
Technical StandardASTM DIN GB JIS3302
GradeSGCC SGCD or Customer's Requirement
TypeCommercial Quality/DQ
Thickness0.13mm-4.0mm
Width600mm-1500mm
Type of CoatingHot Dipped Galvanized
Zinc Coating30-275g/m2
Surface TreatmentPassivation/skin pass/non-oiled/oiled
Surface StructureZero Spangle / Mini Spangle / Regular Spangle / Big Spangle
ID508mm/610mm
Coil Weight3-10metric ton per coil
PackageStandard export package or customized
Hardness HRB50-71 ( CQ Grade )
HRB45-55 ( DQ Grade )
Yield Strength140-300 (DQ Grade)
Tensile Strength 270-500 (CQ Grade)
270-420 (DQ Grade)
Elongation Percentage 22 (CQ Grade thickness less 0.7mm)
24 (DQ Grade thickness less 0.7mm)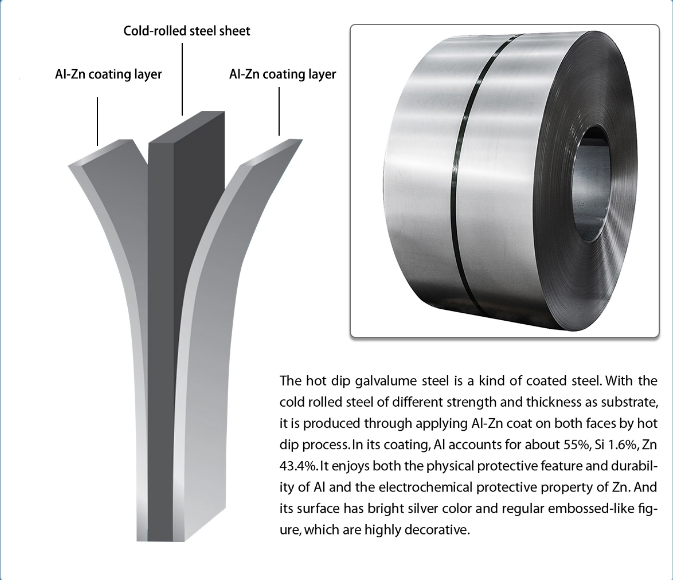 Main Features
1) Corrosion resistance:When zinc is abraded, aluminum forms a dense layer of alumina that prevents further corrosion of the corrosive material inside.
2) Heat resistance:Aluminum zinc alloy steel has good heat resistance and can withstand high temperatures of more than 300 degrees Celsius.
3) Thermal reflexes:The heat reflectivity of Al Zn steel plate is very high, which is two times that of galvanized steel sheet.
4) economical efficiency:Since the density of 55% AL-Zn is smaller than the density of Zn, the aluminum-zinc-plated steel sheet is more than 3% larger than the area of the plated steel sheet when the weight is the same and the thickness of the gold-plated layer is the same