Product Information
A.Description
The structure of customized poultry farm are flexible because different customers need different style. We help the customer design the structure to meet the individual requirements. We provide free design for you. Of course, we can follow your drawings to arrange. Our fireproof prefabricated wall battery prefab light steel hen house has many features. Low cost small prices, standardization, modular combination design, factory production, removable mobile, reusable, easy to stock restructuring, safe, environmental protection, beautiful and efficient light steel system integration house.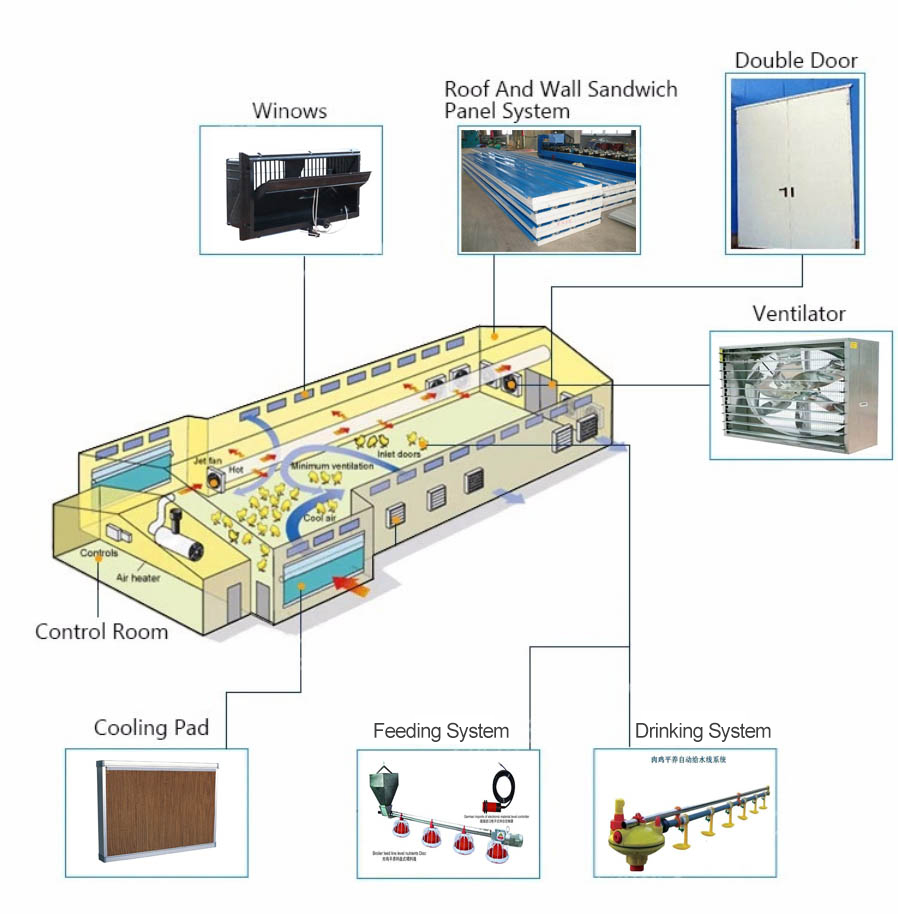 1 Frame
High humidity and more ammonia can easily lead to some of the facilities corrosion. So we use galvanized H beam for columns and beams. We also use galvanized C beam for purlin. The galvanized frame can protect from being corroded thus can extend the life of the structure. Poultry shed in coastal city demand building have good wind resistance. We can design by the advanced software.
2 Panel
Depending on the climate in different regions, you can choose veneer or insulation composite panel. The plates have a variety of options colors. The board of tile can have a wide selection. Sandwich panels have EPS, glass fiber, rock wool. The panel can be heat insulation and prevent rust and corrosion. If you don't want to use the panel, you can use the wire mesh for wall. In hot or cold areas, we recommend to use composite panels, thermal insulation and heat insulation. Of course, the veneer price will be lower.
3 Height
Generally, if the poultry farm is free range farming, the height is 2m-3.5m. If it is cage farming, the height should be determined according to the number of cage layers.
4 Production time, installation time
About 3,000 square meters of the poultry shed, from design to sourcing to production finally ended is about a month.
5 Provide various types of ancillary farming equipment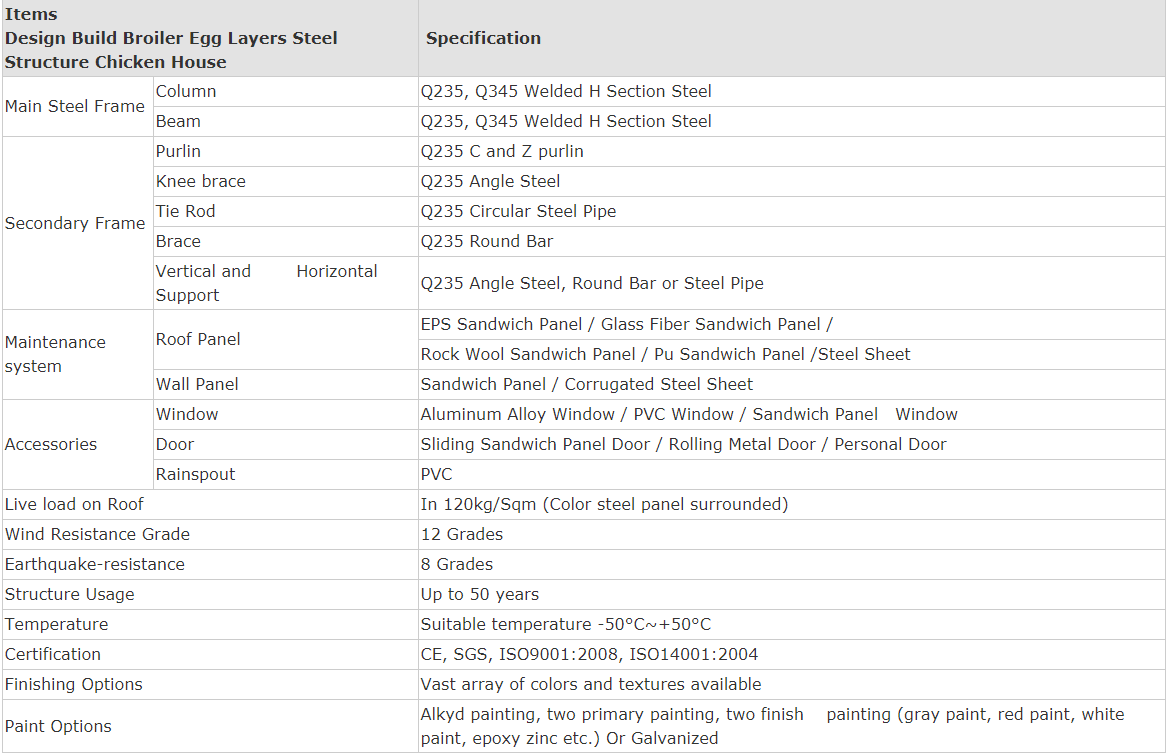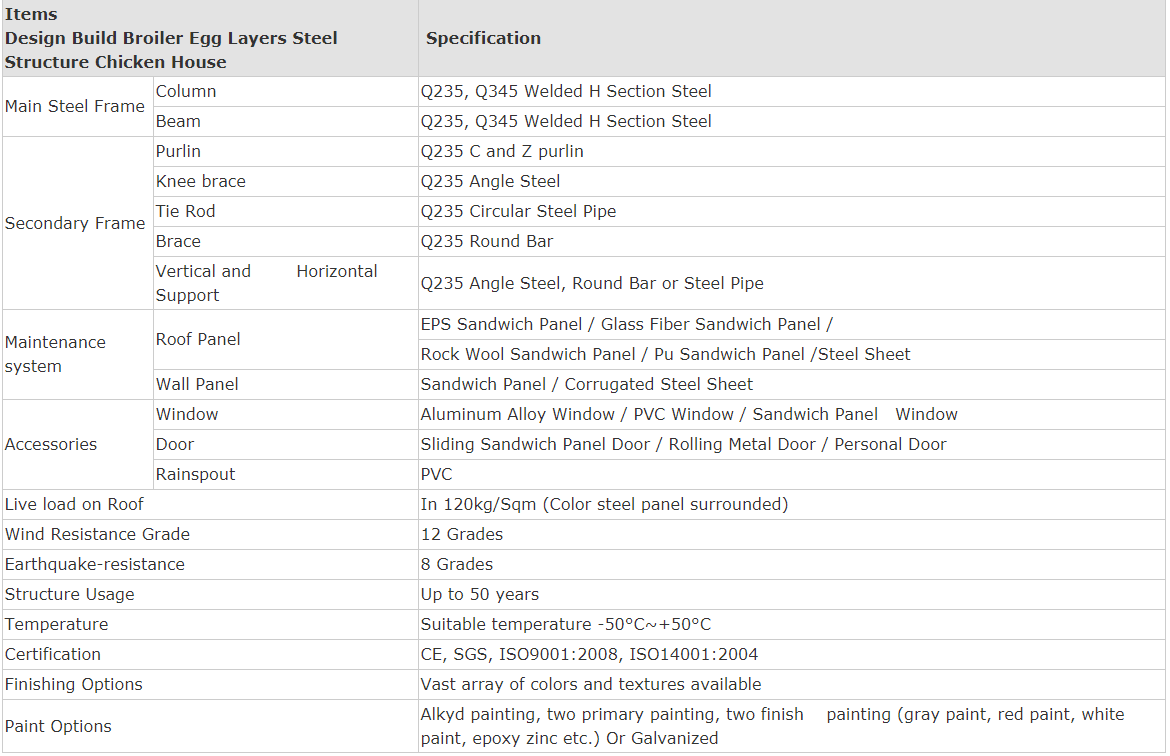 B. Advantages
1. Big span (6-42 m arbitrarily chosen) without beam purlin, support mid-column. spacious internal clearance is admirable.
2. It costs cheap, economical and practical, roof insulation, heat insulation, ventilation and lighting.
3. Fast construction speed, per million square meters roofing construction can be done in 20 days.
4. Light weight, long service life: color steel plate light weight is very applicable to buildings add layer and renovation, use period of 30 years.
5. Beautiful modeling, colorful, unique style, novel and a rhythm, and waterproof.