Product Information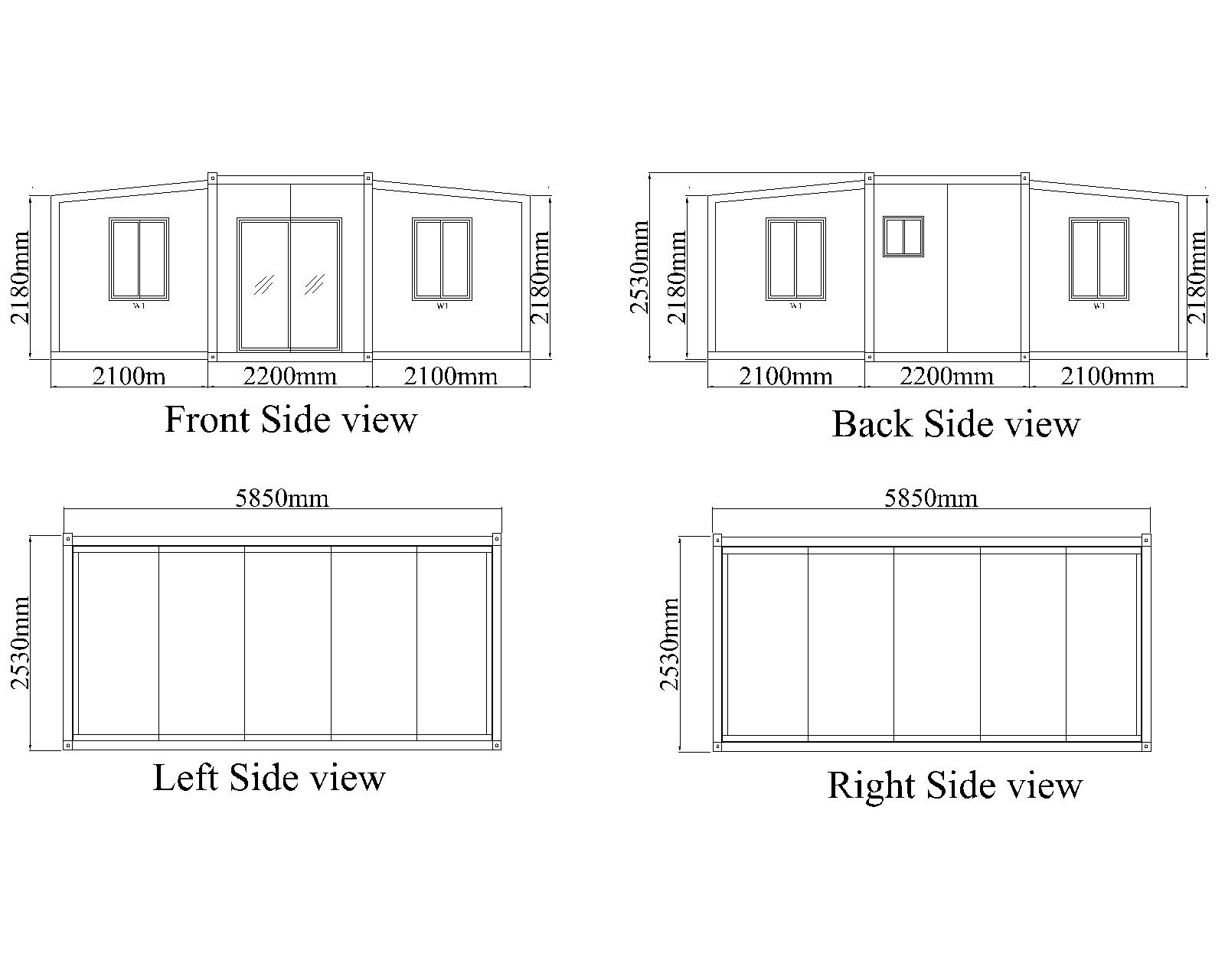 Expandable Container House is just a ordinary shipping container that is expanded into a home dimension. It is convenient to be assembled and movable, the most important is supplying a wider space for mobile living. It equipped with a lot of windows that provide enough sunlight and super outside view. We also can add terrace as sitting area where will be a perfect place for relaxation.
All the water and electrical systems will be finished in advance in our factory, we also can customize that as your request. This can help you to save much time and cost to find professional workers to do that.
Main Material
Steel frame

1

Steel Frame

2.5mm and 3.0mm Steel Plate Blending and square pipe

Wall panel

1

External Wall Panel

50mm EPS/PU Steel Sandwich Panel

2

Internal Wall Panel

50mm EPS/PU Steel Sandwich Panel

3

Roof Panel

50mm EPS/PU Steel Sandwich Panel

4

Strengthen Roof Panel

0.5mm Color Steel Plate

5

Exterior wall material (option)

PVC cladding or PU carved metal board

Floor

1

Base Flooring

1220*2440 PLOYWOOD board

2

Whole Floor

PVC mat

Accessories

1

Wall Slot

0.3mm Color Steel Blending

2

Outside Corner Cover

0.3mm Color Steel Blending

3

Accessories

PVC floor line, waterproof glue, glass glue, rivet, etc

Door and Windows

1

Entrance door

Aluminum sliding glass door

2

Inside door

Wood door for bedroom

Plastic steel door for bathroom

3

Window

8 Pcs double glass windows

Facilities (Chinese Standard)

1

Toilet

1 Pcs

2

Wash Basin

1 Pcs

3

Shower Room

1 Pcs

4

Kitchen Cabinet

1 Pcs

Electrical Fittings

1

Wires with PVC in the wall

AS/NZ Standard

Australia/NZ Standard Fittings or the other country standard

2

Sockets

3

Switches
Advantages of expandable container house:
1. Easy install: can be finished in one hour by 4 workers.
2. Long lifespan: 10~20 years, also can be folded and assembled several times.
3. Environment friendly: no construction waste and all the materials can be recycled, belongs to low carbon building.
4. Lower price: save at least 50% cost compared to traditional construction.
5. Easy transportation: can be loaded in the container directly and light weight to load and unload conveniently.
6. Easy to be luxury: by adding exterior wall decoration materials, roof, and deck to make it more beautiful.
Assemble process

Accessories