Product Information
We are specialized in the prefab house and offering the different solutions according to the different application and areas , for the prefab villa , container house system , easy house system and the steel structure house etc.
There are many customers are looking for the cheap house , which is with 2 or 3 bedroom for family living in , specially for africa .
Prefab easy house is build by the light steel structure and the sandwich panel. The components are bolted, a new concept of environmentally friendly and economical movable board houses. It can be assembled and disassembled conveniently and quickly, realizes the general standardization of temporary buildings, establishes the environmental protection, energy saving, fast and efficient construction concept, and makes the temporary housing enter a series of development, integrated production, matching supply, inventory and The field of stereotyped products used in many turnovers.
The detail housing solutions as below ,
Steel structure : Painted /Galvanized steel structure
Wall panel : 50/75 mm EPS / Glass fiber sandwich panel
Roof : light steel roof truss + single color steel sheet
Ceiling : 50 /75 mm EPS sandwich panel
Window : Double glazed PVC/aluminium alloy window
Door : Safety door , wooden door or the Titanium magnesium alloy door
Floor : optional , you can use the cement floor , save cost also will be fine .
Electrical /Pipelines : optional
Sanitary : Optional
Design
We have the professional design team to do the design for the layout , exterior roof design .
The popular design of the prefab house as below ,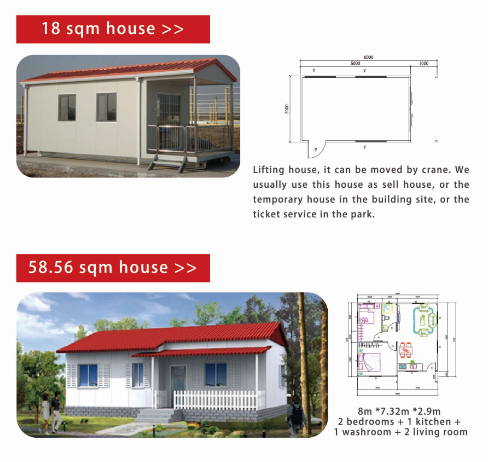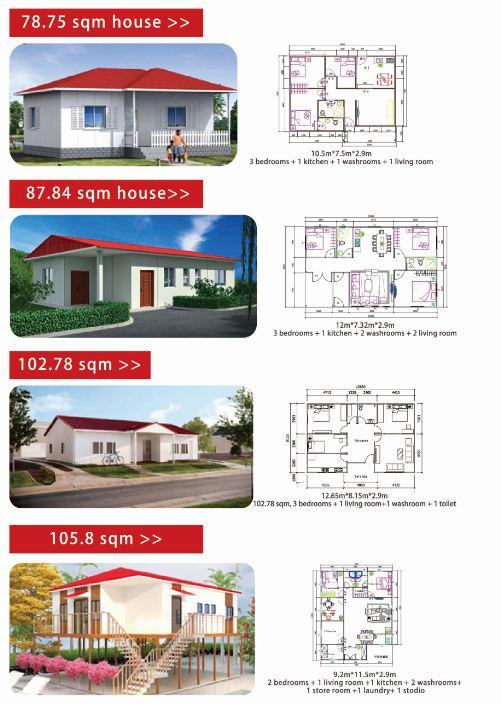 Welcome to contact us for more details .