Product Information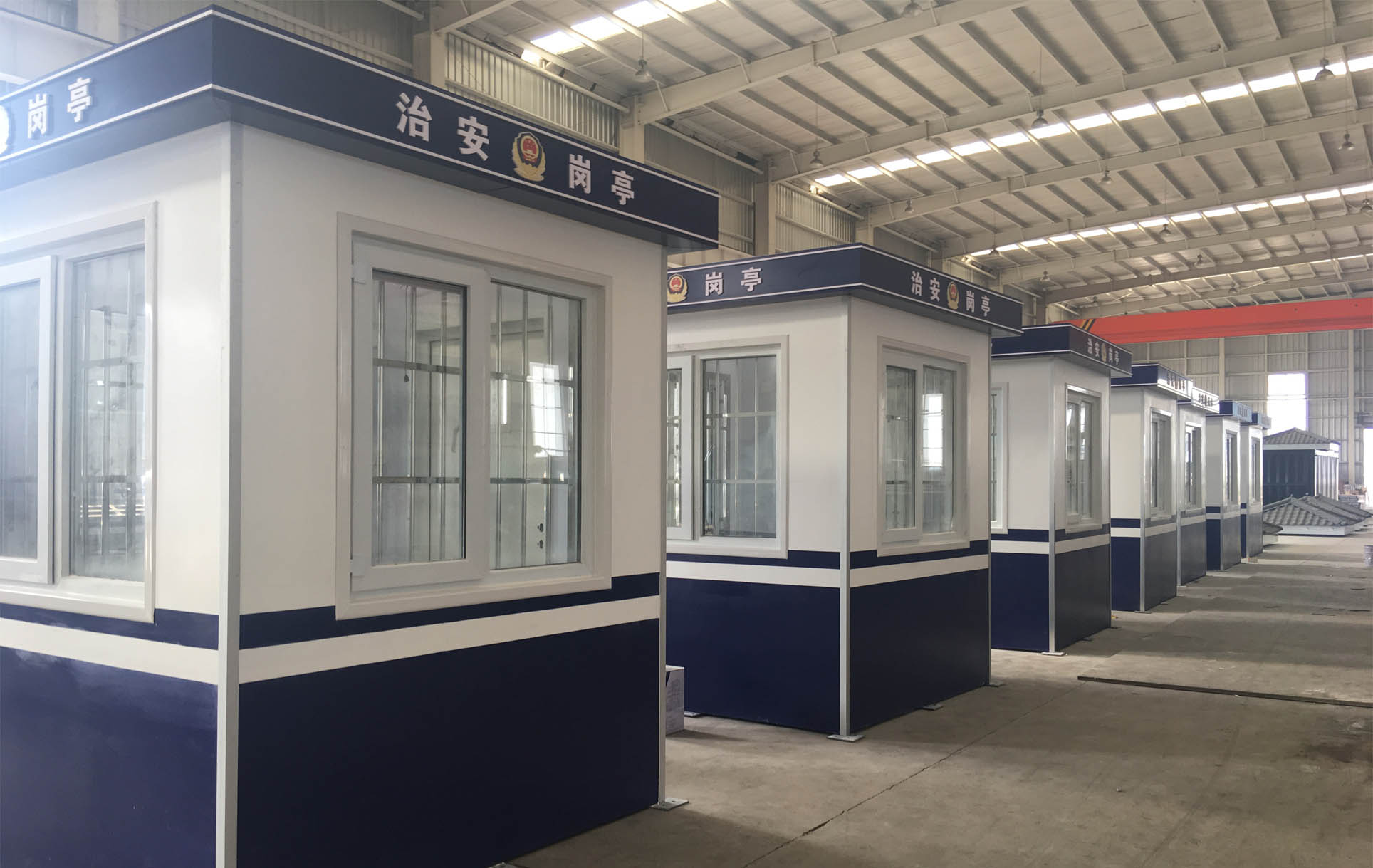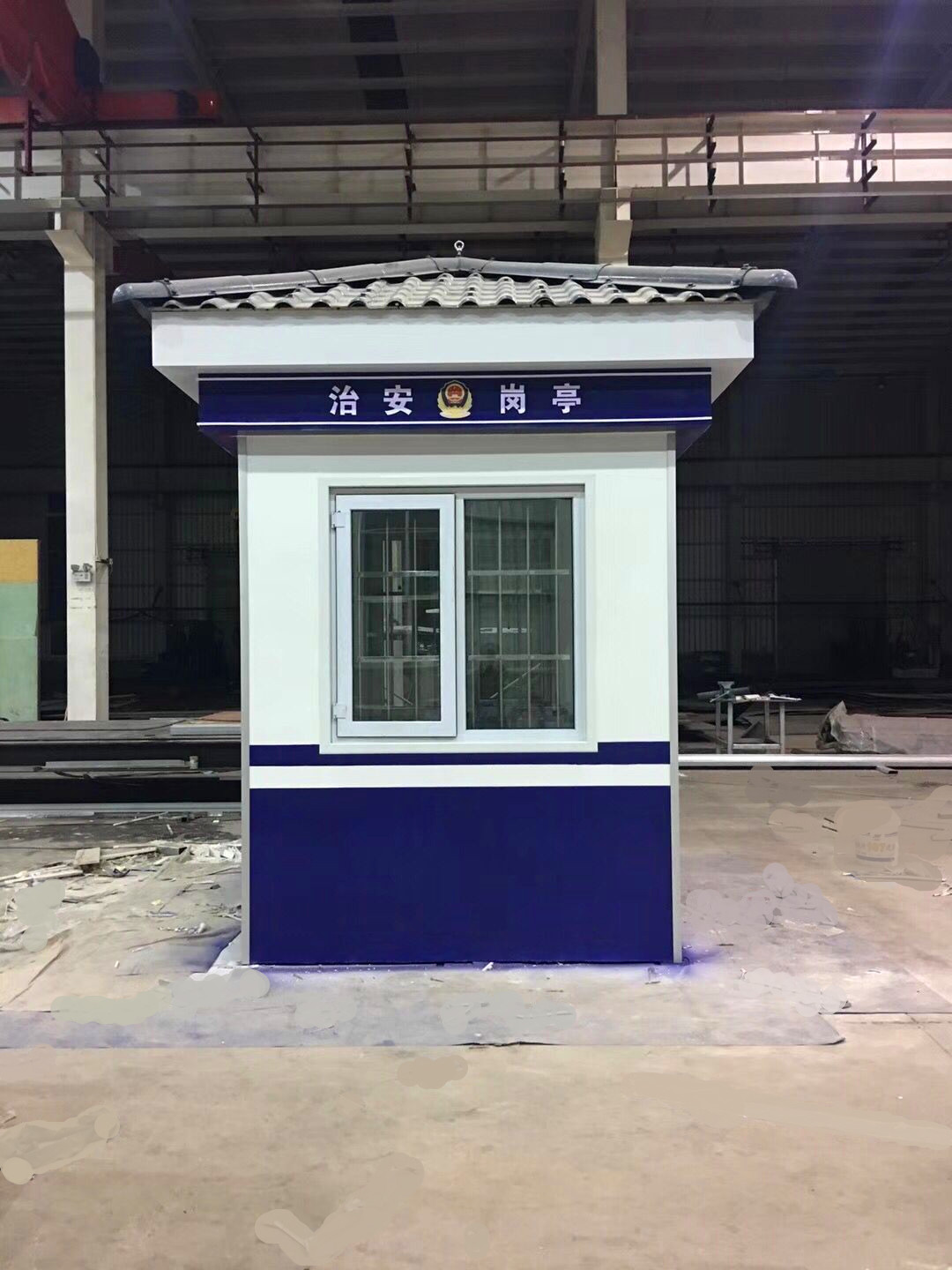 Sentry booth introduction
A sentry booth is a small shelter with or without an open front in which a guards duty may need to stand to be sheltered from the weather.
An armored booth, armored guardhouse, or security booth is a small structure furnished with a chair, and security cameras.
The guards often sit inside of the structure, which has strong windows, doors, and walls. Such booths are generally found at embassies, important government buildings and structures, military installations, and high end hotels in some countries.
Sentry booth is also belong to prefab house in small size
1• Cost effective and quick to build
2• Strong and design-flexible
3• Durable and safe
4• Easy to assemble and transportation
5• Environmentally Friendly
TECHNICAL PARAMATERS
WIND RESISTANCE: 2.1KN/M2
EARTHQUAKE RESISTANCE: 9 DEGREE
SNOW LOAD: 1.5KN/M2
ROOF DEAD LOAD: 0.6KN/M2
ROOF LIVE LOAD: 0.6KN/M2
STEEL STRUCTURE PART
STEEL COLUMNZIN COATING: 275G/M2 LIGHT STEEL TRUSS
STEEL FOUNDATIONZIN COATING: 275G/M2 LIGHT STEEL TRUSS
ROOF FRAMEZIN COATING: 275G/M2 LIGHT STEEL TRUSS
ENCIRCLEMENT PART
WALLEPS: CEMEMNT PANEL, EPS/ROCK WOOL/PU /GLASS WOOL SANDWICH PANEL
WALL THICKNESS: 50-200MM STEEL THICKNESS: 0.8-1.0MM
CELLINGEPS: CEMEMNT PANEL,EPS/ROCK WOOL/PU /GLASS WOOL SANDWICH
PANELTHICKNESS: 50-200MM
FLOOR: PLYWOOD/PVC LEATHER
FLOORTHICKNESS: 50-200MM
DECORATION PART
FLOORING: 2MM PVC SHEET FLOORING/WOODEN FLOORING /CERAMIC TILE
INNER WAINSCOT: 9MM MDF DECORATION PANEL DECORATIVE WITH WALL PAPER OR PVC
CELLING: GYPSUM, SANDWICH PANEL, SINGLE STEEL SHEET OR PVC BOARD
WINDOW: PVC/ALUMINUM SHUTTER WITH FLY SCREEN AND GRILL GUARD
DOOR: ENTRANCE DOOR, STEEL SECURITY DOOR, WITH LOCKAND KEYS, INNER DOOR, WOODEN MOLDED DOOR
OTHER DETAILS
ELECTRIC/DRAINAGE SYSTEM: PROVIDED PLAN, DESIGN AND CONSTRUCTION
APPLICATION: CARPOT, HOTEL, HOUSE, OFFICE, BOOTH, KIOSK, SHOP, TOILET, VILLA, WAREHOUSE, WORSHOP, PLANT
LIFE SPAN: OVER 50 YEARS
DELIVER TIME: 25DAYS AFTER RECEIPT OF DEPOSIT
More details