Product Information
shipping container homes ready to move in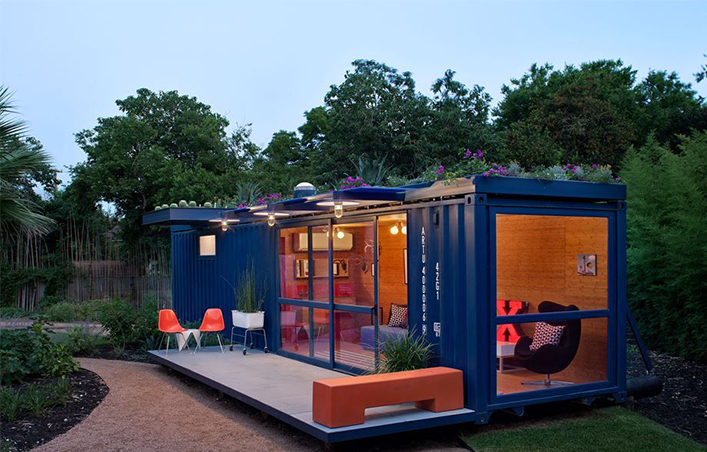 This wonderful guest house made out from a recycled shipping container. Because of the container's shape and nature, there isn't a a wide range of possibilities for decorating.
People always take this as a challenge and in this case,the result turned out great. The container was painted blue and two sections were cut out and replaced with windows and
big sliding doors.
The house has a small patio in front and a partial roof above it to shield the rain from splashing directly into the door. The interior features wood paneling on the walls , which provides
a feeling of warmth and comfort.
Bold combinations of colors and materials make this structure a fine place to hang out and enjoy the surrounding landscape. This unique container house was design is comfortable for
people to live there .
Detail Specification

Size : 20ft shipping container house : 6058*2438*2591 mm
40ft shipping container house : 12192*2438*2591 mm
Insulation : EPS / rockwool or PU 50/100/150 mm thick , used for the roof , wall ,floor
Door : Glass door , wood door , roller shutter door or as request
Window : double glazed PVC/ Alumimium window
Floor : PVC floor or wood floor in the living area
Aluminum Checkered floor in kitchen
Ceramic tile or PVC floor in bathroom
Decoration : optional or do as customers' request
Sanitary :Optional
Pipelines / electrical : Optional
Transform container house Features:
1. Reliable structure:
ISO shipping container structure is design for cargo transportation, which meets the design requirements of stable performance of living with insulatuion and interior finishing of electrical,
HVAC,plumbing and furnitures.
2. Easy to install and relocation:
Standardized containers thats exactly same size as ISO shipping container it can be sited on any trucks and on board of the vassel, make it easy to transport and ready to use with all finishings.
It is especially suitable for emergency projects.
3. Attractive appearance:
Paintings on containers, the whole structure is durable and novelty.
4. Environment friendly and economical:
Reasonalbe design makes it reusable. The reusable character makes it environment friendly and economical.
5. Cost efficient:
First class material, reasonable price, once and for all investment, low requirements for base and short completion time make it cost efficient.
6. Relocatable:
It can be relocated more than 100 times. It has 30 to 70 years durability
Alternatives designs