Weizhengheng steel structure Bridge
2020/11/23 15:57:14
  On November 8. Weizhengheng Construction Group, with its brand advantage in the steel structure market, and the company's continuous technological innovation and project team strength, successfully won the bid for the Henan Xinyang Yunzhi Avenue Bridge project and will participate in the Xinyang High-tech Zone of China Railway 19th Bureau The processing project of Yunzhi Avenue and Bridge of the EPC project of the first phase of the Ouhaiying Ecological Smart City has completed the integrated work of the optimized design, processing and installation of the steel structure of the project.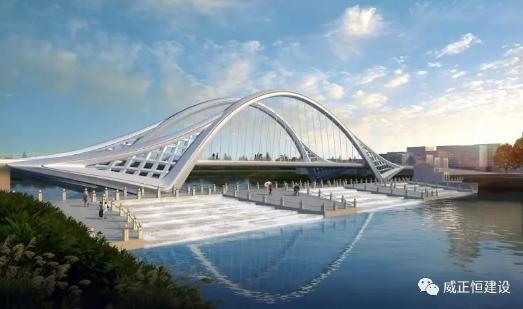 1. Project name:
  China Railway 19th Bureau Group Co., Ltd. Xinyang High-tech Zone Haiying Ecological Smart City Phase I EPC Project Yunzhi Avenue Bridge Project.
  2. Project introduction:
  The Yunzhi Avenue Bridge crosses Fengwu Lake at pile number K1+949. According to the plan of Fengwu Lake, the total width of the landscape lake is 160 meters, and the two banks are surrounded by green roads, and the bridges need to be spanned. The starting and ending mileage of this bridge: K1+831.98~K2+066.02. with a total length of 234.04m. The main bridge adopts 30+100+30=160m flying swallow arch bridge, the main bridge has a total width of 39.3m, and the approach bridges on the north and south sides adopt 1-30m prestressed concrete monolithic box girder, and the approach bridge has a total width of 34.5m.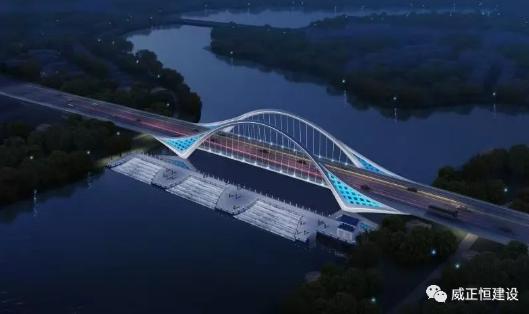 3. Main engineering quantities:
  All content within the drawing list of steel box girder and auxiliary structure of Yunzhi Avenue Bridge, main arch production and processing, transportation, etc. (including secondary deepening design, raw material procurement, in-plant production, in-plant welding, inspection (third party), bolts Nailing, sandblasting, paint coating, in-plant assembly, transportation and unloading services, etc.). The total steel consumption is 4500t.